Already a well-known fixture within the brewing industry, grower owned hop merchant Charles Faram today announced its partnership with new UK hop grower group, Charles Faram Farms LTD.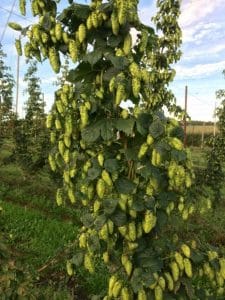 "We already work very closely with our grower partners worldwide" said Paul Corbett, Managing Director of Charles Faram "but this is to take the link with our local UK growers to the next level. Charles Faram Farms will be heavily involved in creating and retaining strong, long-lasting partnerships between its grower members and the brewers who use their hops. Members will be working closely with us on all aspects of our Hop Development Programme and raising standards throughout the group through the sharing of knowledge and best practice via the Wellhopped Quality Programme. It is a very exciting development and we invite brewers to join us in working more closely with the farms that grow hops for them." 
Simon Parker, recent Chairman of the British Hop Association and a Director of the new group said "We have worked closely with Charles Faram for many years and to be able to move this forward in such a positive way in such a difficult time for hop growers is a fantastic opportunity. Every member of the new group is delighted to be involved and we are looking forward to working with the team at Charles Faram and their brewery customers." 
The growers in the new group already produce a wide range of varieties, offering top quality hops ranging from the traditional Fuggle and Golding varieties to the low trellis varieties Sovereign, First Gold, Endeavour, Archer®, and the aphid resistant variety Boadicea. The group is also growing a large proportion of the own brand Jester®, Olicana® and Harlequin™ acreage for Charles Faram.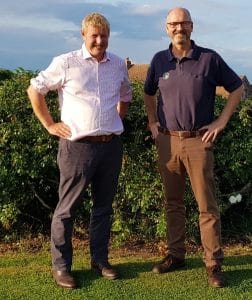 They are also very conscious of the environment and are looking at new practices to reduce the carbon footprint of the hops grown. This includes growing varieties that use less crop protection products, autumn planting of inter row cover crops, carbon neutral fuel in tractors and for drying in the kilns. James Hawkins, another of the grower Directors in the new group said "Growing of hops is a passion we all have in abundance, to link directly with Charles Faram and have access to their Development Programme is very exciting. We are already growing four of their new varieties commercially and look forward to seeing others come through. To have a closer relationship with brewers and meeting their requirements gives me confidence that we can keep supplying British Hops and make sure that the sixth generation of our family will continue to grow hops as I and the four before me have."
Charles Faram Farm hop growers are very keen to work closely with British Brewers to help them reduce their carbon footprint. It is hoped that brewers will recognise the value in buying local, sustainably grown hops, reduce their food miles and help the environment. Look out for the grower links at https://www.charlesfaram.co.uk/charles-faram-farms-meet-the-growers/
Hop history
Charles Faram have come a long way since the standard three hop varieties on offer and the base in the old hop market in Worcester city centre.  Hop picking has become more mechanised and brewery numbers all over the world have increased dramatically.  Tastes and trends have changed, and so too have the hops.  Check out their hop development page to find out the commitment that the industry is making to ensure that they can help brewers to create great beer. https://www.charlesfaram.co.uk/new-hop-varieties/
Charles Faram & Co Ltd has been hop suppliers for over 150 years, and has one of the largest range of hop varieties available from stock in both nitrogen flushed leaf hops and Type 90 (T90) pellets.
Varieties come from the UK, Belgium, Czech Republic, France, Germany, Poland, Slovenia, New Zealand and the USA. Faram's provides an artist's palette of flavours to create every type and style of beer from the traditional varieties to exciting new developmental varieties from Faram's own breeding and development programme. Their own varieties include Archer®, Godiva™, Harlequin™, Jester®, Minstrel®, Mystic®, Olicana® and Opus.
Not just hops
Charles Faram also supply malt, yeast and other brewing supplies.
They can help with brewing technical advice and variety recommendations
Locations
Charles Faram, originally based in Worcester, is now situated in the tiny hamlet of Newland at the foot of the picturesque Malvern Hills. This means that they are ideally placed for collection or distribution through the UK. They also have offices and cold stores in Yakima (est. 2016), Portland (est. 2012) and Toronto (est. 2014)
Contact: Paul Corbett, MD, paulcorbett@charlesfaram.co.uk 07834 602 684
Charles Faram & Co Ltd, Monksfield Lane, Newland, Worcestershire, WR13 5BB. 01905 830 734