Verder are thrilled to share that they have been announced as the winner of TWO Best Business Awards 2022, in the categories of Best Health and Safety and Best New Product/Service.
By winning the Best Health and Safety Award 2022 for their Q-log safety observations initiative, Verder have once again shown commitment to ensuring the safety of all employees. Everyone knows that health and safety is important, but it is easy to overlook the smaller details. It is important to make sure everyone is considered when implementing health and safety initiatives, and the Q-log safety system does just that. There have been significant notable improvements to conditions, and this is only set to continue. Since the programme was launched during early January 2022 it has been very successful. The whole process has helped improve everyone's attitude towards health and safety and staff and visitors can feel safer that everyone is following the correct procedures. Visitors are less likely to feel unsafe when attending the premises and are able to focus on engaging with the manufacturing going on in the factory.
The chairman of the judges said "Well done to Verder Ltd for making its UK sites safer with its new health and safety initiative. The scheme encourages staff to report health and safety issues at work and log them using a severity colour code with red being urgent, amber meaning needs to be addressed soon and green signifying not so urgent. Since January 2022, 25 observations have been logged by staff and those requiring action have already been completed. Verder Ltd has created the perfect way to encourage staff to take responsibility for their work environment and keep safe"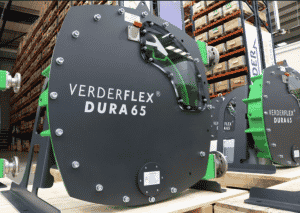 In addition, the Verderflex Dura 65 peristaltic pump has yet again been recognised as the Best New Product/Service 2022. This adds to the Global Business Excellence Award achieved for the same product earlier this year. The validation of winning a second award for this innovative pump, proves once again that innovation is at the heart of what Verder do.
Colin Heathfield, Product Manager for Verderflex Peristaltic Pumps said "It is a real pleasure to win this award and I would like to thank and offer praise to our team for coming together with this concept, maximising the flow rate per frame size. We have listened to customer feedback and addressed the small points that make a difference whilst still trying to maintain a balance between product specification and value for money. Its success as a good value pump for the customer can be reinforced by the number of units going through our system."
Winning this award is important because it supports Verder's mantra of trying to offer a solution to the customers and being flexible in terms of development to meet global needs and specifications. Verder will continue to contribute to the advancement of the pump industry and are excited to share new releases with you over the coming year.