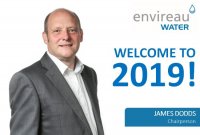 A message from James Dodd, Chairperson at Envireau Water:
I hope that you enjoyed your break and are now raring to go.  This time last year I diverted from my appalling weather predictions and said:
"Rather than forecast the weather, I'm going to hope that on balance we get about an average year in terms of rainfall. That we get some good "recharge weather" between now and May; that the summer brings a healthy balance between sunshine, warmth and wet; and that next winter gives us useful frost."
What we actually got was a year of contrasts with extremes of hot and cold, wet and dry – the summer heatwave contrasted sharply with the freezing conditions during the so-called 'Beast from the East' in February and March. The long dry summer, which extended into autumn, followed a long cold and then very wet spring. We certainly got the good recharge weather which filled groundwater systems in permeable catchments, following the dry periods in 2017. Flooding issues rapidly turned to drought issues as summer progressed. The groundwater systems and reservoirs that filled in the spring maintained public water supplies, but the very high temperatures and lack of summer rainfall created a very severe agricultural drought. Envireau Water had an intense summer of abstraction licence variation negotiations to help irrigators keep crops alive. As rainfall continued to stay away, poorly permeable catchments lacking groundwater baseflow in streams and rivers began to suffer and reservoir stocks rapidly diminished. The latter part of winter and spring 2019 will be important in filling both groundwater systems and reservoirs.
Re-reading my missive from last year, I noticed that I referred to the fact that concerns about drought in 2017 were avoided but discussed at length. 2018 brought agricultural drought into stark focus. Water resources management is a careful balance. During the year I gave several presentations on balance – why it is important and why all components of the balance must be considered. The solutions to the agricultural drought involved rapid and appropriate decision making, balancing small short-term risk against very significant risks to the UK food supply in the medium term. There were extremely useful learnings that came out of the decision making processes which would benefit day to day water resource management. I hope that those learnings are not lost in the sigh of relief as rain returned in the autumn.
The dry summer weather distracted everyone from the subject of New Authorisations. The time to get applications submitted for previously exempt abstractions started ticking away. The regulators got increasingly worried that very few applications were received as industry got to grips with what was required to complete applications. Only now, at the start of 2019, is momentum starting to build with Envireau Water and the regulators stressing how those people affected by these regulations must see the application as a job for this winter, and not leave it too late.
We live in a regulated world, and the water environment is far more regulated that many people realise. The regulation is in essence a good thing. We live on a small island with a high population. If we want an environment that supports and sustains us, we have to protect and work with it. Equally, the environment in which we sit here in the UK is largely man made and is certainly man managed. The management that must be undertaken to support our overall sustainability is an incredibly difficult balance between competing interests. It is not possible for any interest to take precedence, balance is about give and take. Industry, developers and land owners must give by understanding the environment that they are working in and investing in that understanding. Specialist interest groups, NGOs and objectors must understand that their objectives will only be met by cooperating and by working with developers to understand, protect and enhance the environment. Not in my local or national backyard is a euphemism for exporting impacts and damage on someone else or another country. If we want a localist view, then we have to learn to use our local resources in balance with the local environment. The regulators, politicians and government must get better at understanding the balance and management at all levels, better at drawing people together, better at drawing on expertise. This will then make them better at making very difficult decisions, like they managed to do during the 2018 agricultural drought.
PREDICTION FOR 2019
I've deliberately avoided the B word, which will without a doubt dominate 2019. However I, like government, have no idea what is going to happen. The weather is easier to predict. After last year's extremes, an average year I think. But with average rain we may not get aquifers topped up until a wet autumn kicks in. No summer scorcher, but some warmth in late spring/early summer. We'll be dancing around the D word. Steady rain will keep plants growing, but without high rainfall months, reservoirs will be slow to fill. Normal temperatures will keep a lid on demand.
To finish, I would like to take this opportunity to wish you and yours all the very best for 2019 and whatever it brings, you like a bit, learn a bit and laugh a lot.
James Dodd, Chairperson