CIDER MANUFACTURER
See how one of the world's top cider producers has improved its industrial cooling processes with intelligent solutions from Grundfos.
One of the world's top cider makers was experiencing a substantial rise in demand for its product. With its produc­tion increase, it needed more cooling capacity – both for the process of manufacturing cider and also for storing the final product.  The company and their OEM supplier – one of the UK's lead­ing industrial cooling installers – were looking for a turnkey solution that would fit the cider manufacturer's sustainable profile. They needed process efficiency, connectivity, system reliability and technology to accomplish more.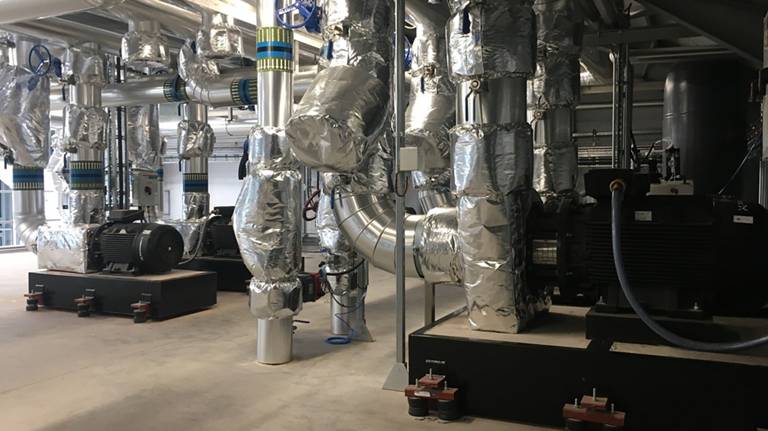 The solution
They chose Grundfos iSOLUTIONS intelligent pumps and controls for the cooling system. Variable speed, conventional end suction pumps are combined with intelligent multi-pump controllers, external Grundfos sensors and communication. This enabled the OEM customer to control and refine their cooling production to optimum levels while adapting to changes in process demands through Grundfos technologies and communication possibilities.
The Grundfos system controls an array of different application sub-systems:
Softened water for cooling tower
Primary Chiller Pumps
Secondary cooling distribution pumps
Chiller condenser pumps
Closed-loop circuited pressurisation
Condensing cooling tower fan motors and even the plant room ventilation fans
These systems are enabled by Grundfos CIM500 communication modules. This allows the OEM to obtain critical operational data that could either be used to determine system adjustment or inform the cider manufacturer on performance parameters like power consumption, cooling power, water consumption, alarms and more.
The outcome
The factory has better control of its cooling processes due to Grundfos iSOLUTIONS. Compared to a proposed competi­tor's solution, the new Grundfos system saves an estimated 30% energy on pumps and chillers. In addition, since the condensing system is more efficient, the cooling towers need less water replacement. The company not only benefits from energy and water savings over conventional systems, but they get the insights on key data points. They can see how efficiently the system is operating, and they can make adjustments quickly if they have process changes. And the intelligence is also put into the building manage­ment system for full and transparent control and overview. The cider company achieves its goals in manufacturing quality cider for its customers while contributing to global sustainability.
"The Grundfos iSOLUTIONS is a key element in this cider manufacturer's continuous improvement for their cooling system, as it reacts immediately to process or demand changes."- Luke Gardener, National Business Development Manager, Grundfos UK
GRUNDFOS CONTROL MPC – CU 352
– For 2 to 6 pumps in parallel
Perfect cascade control
To achieve optimal operation of the system and minimum energy consumption, it is not enough to have high efficient pumps. The control of the system is just as important.
The MPC incorporates pump curve data for the best optimised system performance.
This information makes it possible for the system to calculate the optimal speed and number of pumps to be operating at any time.
The controller can based on pump curve data estimate the flow, without using a flow meter. This gives an impression of the performance of the system and hints of any irregular water consumption that could indicate a pipe burst, without having to invest in an expensive flow meter.
GRUNDFOS NBE SINGLE STAGE PUMP
Intelligent pumping solutions
The NBE is pumps, motor, and frequency drive in one product. Along with various sensors, these pumps allow for dynamic and intelligent solutions to many industrial applications such as cooling systems.
The NBE can meet any individual needs for a specific solution.
This makes it an excellent choice for a number of applications within heating, cooling, and industrial processes – each of which are characterized by varying demands, different control needs, and varying numbers of operating hours.
2 in 1 pressure and temperature
The Grundfos transmitter is a 2 in 1 solution with pressure and temperature measurement integrated into one unit giving output signal for both pressure and temperature in any liquid.