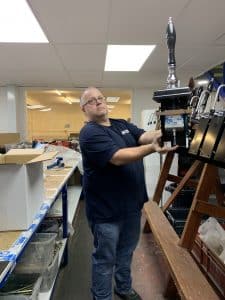 Ruth Evans MBE visited member company, Tec-Flo, based in Little Hulton, Manchester.  Established in 1997, Tecflo supports and supplies a full range of dispense equipment both to the UK and overseas.  They are leaders in fob detector supply, with over 3 million sold worldwide.  They manufacture and supply keg couplers, cleaning sockets, primary and secondary gas regulators, dispense fonts and taps, beer engines and beer meters.  All equipment is available from stock (£1.25million stock held at any one time) and fully traceable.
Ruth met with founder, Geoff Wood; Purchasing Manager, Sharon Edge and Commercial Director, Emma Stewart at their Little Hulton factory (a 4,000sqft warehouse is based in Leigh).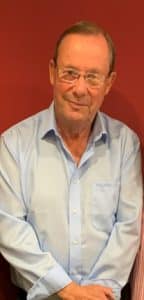 Geoff started at Salmesbury Brewery in 1969 as a brewing engineer and was involved in the first brew back in 1972.  Geoff moved into the technical services department and started his own company in 1986.  The company now boasts 19 staff, many of whom have been with Geoff for decades (current average tenure is 14 years).
Tec-Flo dual source all equipment, ensuring continuity of supply.
Their Mark 2 keg couplers (all 316 stainless steel) have a patented design, ensuring a vertical gas inlet position at all times.
Fob detectors designed and supplied by Tec-Flo (3 million thus far) are made from high impact acrylic, ensuring durability and sustainability.  Their new fob detector, specifically manufactured for the US market, is half the size of the standard fob detector, providing an enhanced aesthetic to bars where the dispense system is showcased to the consumer.
The new under bar light transformer is reduced in weight from 2kg to 200gms, attaching to the bar via 3M heavy duty adhesive tape, ensuring installation is quick and easy.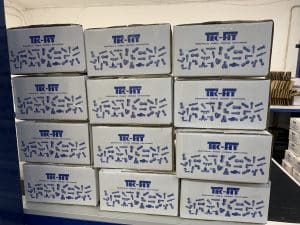 One of the newest products designed and supplied by Tec-Flo is the TECFIT range of snap in fittings  With 1 million pieces of fittings in stock at any one time, a life time guarantee and no minimum order, there is ultimate flexibility of supply.
Geoff demonstrated another new product, their 4-out, water cooler (R290), with a 17kg ice bank .
Emma, Geoff's daughter, who has a long history of working in the business growing up, noted that quality was paramount to the company, with every component and piece of equipment tested before being boxed up to leave the factory.  All regulators are tested for creep and old regulators replaced new for old (same replacement criteria applying also to fob detectors).  All regulators contain a non return valve, ensuring no liquid can enter via mishandling by bar staff.
If you would like to know more, the door is always open and the coffee pot on.
info@tec-flo.co.uk