International Specialized Exhibition Beverage Industry Beer and Soft Drinks Industry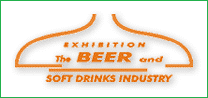 Listed as a unique professional event for members of beer production, beer cocktails, malt beverages, as well as low-alcohol beverages and soft drinks market. The latest developments and innovations in area of raw materials, machinery and equipment for breweries, mini-breweries, equipment for processing raw materials, transportation of raw material and beverages, packaging, containers, labels etc. are featured here.
There will be an annual tasting competition to determine the best brand. The winners are awarded with Diplomas and medals of Exhibition. The products are evaluated by ca panel of experts and the center of independent consumer expertise TEST.
For further information click here