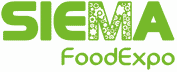 MOROCCO FOODEXPO allows the companies to meet more food sector buyers, face-to-face, in one location, when they are actively sourcing and purchasing products like yours.
An International portfolio of Food and Hospitality event. Morocco is highly dependent to foreign suppliers for its local food market such as grain, sugar, coffee, tea, spice, packaging and processing machinery and many other products.
Moroccan food industry's dependency on the international food industry make all eyes are on Morocco market in recent years.
For more information, please click here.