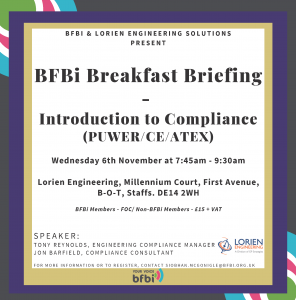 Date – Weds 6
th
November
Time – 7:45am till 9:30am.
Location – Lorien Engineering, Millenium Court, First Avenue, Burton- on –Trent,Staffordshire, DE14 2WH
Whether it's to improve your knowledge, have a refresher or understand responsibilities, learn about Directives or keep up-to-date with changes in legislation we look forward to seeing you.
Places are limited to encourage interaction and open to project engineers through to H&S and capital projects staff within food & beverage manufacturers. Likewise equipment manufacturers will learn their duties & responsibilities. Open to BFBI members and the wider industry.
SPEAKERS
Tony Reynolds Engineering Manager – Compliance
Jon Barfield, Compliance Consultant
For more information, please contact siobhan.mcgonigle@bfbi.org.uk
To book a place, click here